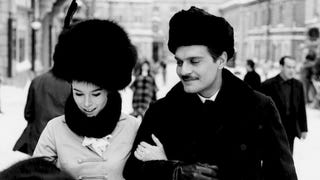 Omar Sharif, the actor best known for his starring roles in classics such as Lawrence of Arabia, Doctor Zhivago, and Funny Girl, has died, sources close to the performer confirm. He was 83 years old.

The BBC reports that earlier this year the star was diagnosed with Alzheimer's and, according to his agent, Sharif died of a fatal heart attack in a Cairo hospital earlier today.
Sharif was greatly respected in the world of cinema. He won Golden Globes for his work on Lawrence and Zhivago, and the former also earned him an Oscar nomination for best supporting actor in 1963. Up until 2014, the actor kept active in the film business, sometimes performing in three to four movies a year. These included the acclaimed Monsieur Ibrahim, Hidalgo, and the not-yet-released Rock the Casbah, which he finished this year.
He was also a passionate Bridge player, apparently. CNN says he even turned down movie roles because shooting would have taken him away from an important competition, a decision he later called "stupid," but may not have actually regretted due to his love of the game.
No word on what kind of service will be held for the Egypt-born actor, but expect at least one Sharif retrospective on one of the cable networks devoted to classic film.
---
Contact the author at mark.shrayber@jezebel.com.
Images via Getty, AP.